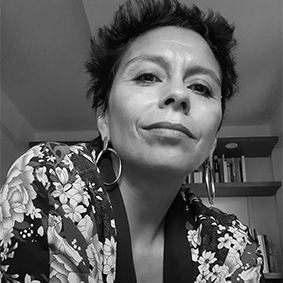 Pilar Moraga had a PhD in law, awarded with the highest distinction in 2005 after a Master in International and European Law at the University of Lille2-Francia in 2001. She is a Lawyer from the University of Chile in 1999.
She is currently Principal Researcher of Governance and Science Policy Interface at the Center for Climate and Resilience Research (CR)2 and associate researcher at Solar Energy Center SERC-Chile (2013-2022). She is also a consultant on several projects regarding climate change governance, disasters, and environmental protection for UNISDR, CEPAL, Euroclima, ParlAmericas, among others, and member of the Group of Experts for the Global Pact for Environment.
Pilar Moraga Sariego is Associate Professor and Deputy Director at the Environmental Law Center, Law School of the University of Chile. Prof. Moraga has developed her career to research, teaching and academic activities in the fields International Environmental Law, Climate Change and Energy. Director of the pre-graduated Law School, University of Chile (2009-2010) and of the postgraduate Law School, University of Chile (2015-2016).
Contact
Email address : pmoraga[at]derecho.uchile.cl
Curriculum vitae